Gacha Life review
Opening the doors to a vibrant universe of character customisation and storytelling, Gacha Life, developed by Lunime, presents an enchanting gaming experience particularly designed for the creative minds out there. While it may not fit the traditional definition of a game, Gacha Life embodies the spirit of playfulness and imagination, allowing you to bring to life unique characters, craft engrossing storylines and lose yourself in a colorful world of dress-up, interaction, and exploration;
Creating Stories in a Colorful World
Gacha Life defies the restrictions of typical gameplay mechanics. Its central allure is the ability to customize your anime-styled characters from head to toe, furnishing them with a myriad of fashion items, hairstyles, expressions, and more. You can then use these characters to craft compelling stories in the game's studio mode, or role-play in the various in-game locations, fostering your creative storytelling skills. Moreover, for some light-hearted fun, the game includes a collection of mini-games for players to enjoy;
Still, no game is perfect, and Gacha Life is no exception. While its realization of character customization is immensely comprehensive, it can feel overwhelming for some players due to the vast array of choices. Its lack of structured gameplay may not appeal to those who desire progression-based objectives or competitive elements. Reports of inappropriate content created by users within the game are another concern, with some parents expressing discomfort about potentially harmful themes being shared among the younger audience of the game;
Celebration of Creativity or A Chaotic Canvas?
A peek into user impressions about Gacha Life reveals a dedicated fanbase who sincerely enjoys the unparalleled liberty for character creation and story crafting the game provides. The game has been appreciated for its simplicity and engagement and has managed to connect with the young and creative audience significantly. However, concerns about user-generated content, sometimes carrying inappropriate themes, are a recurring complaint. Regardless of these drawbacks, Gacha Life holds its charm as a distinct platform that encourages creativity among its users. It provides an engaging outlet for self-expression, making it a standout in the vast universe of mobile games.
Pros:
Unrestricted Creativity: The extensive customization ability allows users to bring their ideas to life
Encourages Storytelling: The studio mode is a unique platform to foster narrative and storytelling skills
Enjoyable Mini-Games: A collection of fun-filled mini-games provides a break from character creation
Social Interaction: Sharing of characters and stories encourages interaction within the gaming community
Free-to-Play: The game is available free of cost, adding to its accessibility
Cons:
Overwhelming Choices: The character customization, while extensive, can feel overwhelming for some users
Lack of Classic Gameplay: The absence of structured, progression-based gameplay may not appeal to all
User-Generated Content: Inappropriate content, stemming from user-generated stories, can occur
How much storage do you need?
Average app size in this category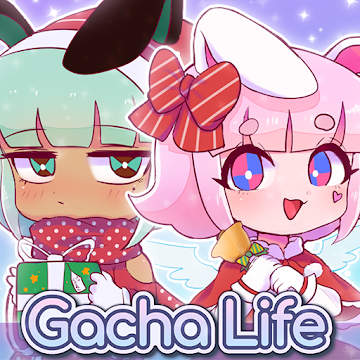 Gacha Life
Take a note. This app's size is bigger than the average in this category